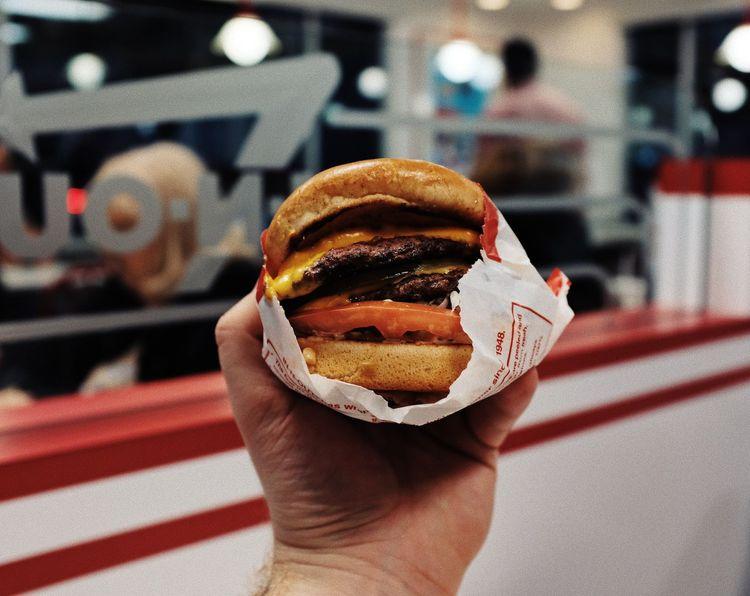 Recipes
Welcome to a culinary journey packed with flavors, nostalgia, and a dash of secret sauce! We're talking about an emblem of the Californian burger scene, the celebrated In-N-Out Animal Style Fries and Burger.
Basking in a legacy of over seven decades, In-N-Out's 'Animal Style' is a secret menu that has carved a significant place in fast-food folklore. Known for its juicy, flavorful burgers and perfectly crispy fries topped with a lavish spread of melted cheese, grilled onions, and their special sauce - it's a recipe that has stood the test of time.
The star of our show today is the In-N-Out special sauce, a tantalizing union of mayonnaise, ketchup, and a blend of spices. A true chameleon, this sauce can easily elevate any dish, slipping effortlessly into differing culinary roles, from a simple dip to a full-blown sandwich spread, making it a favorite in home kitchens.
I have always loved my Animal Style Fries extra crispy, with a generous sprinkle of caramelized onions for that burst of flavor. But what's cooking without a little personal touch, right? Feel free to adjust the crunch level of your fries or the tanginess of your sauce to suit your palate.
While traditionally enjoyed as is, why not use the animal style sauce as a dip for a variety of snacks? It pairs brilliantly with fried calamari, vegetable fritters, and even as a dressing for your home-made salad. Now, let's get grilling and enjoy the In-N-Out experience in the comfort of your home!
| Prep Time | Cook Time | Total Time | Servings | Yield |
| --- | --- | --- | --- | --- |
| 15 Minutes | 20 Minutes | 35 Minutes | 4 | 4 Burgers and a portion of fries |
Ingredients for In-N-Out Animal Style Fries
4 large russet potatoes

Canola oil, for frying

Salt to taste

1 large onion, finely chopped

2 cups sharp cheddar cheese, shredded
Ingredients for In-N-Out Secret Spread
2 tablespoons mayonnaise

1 tablespoon ketchup

1 tablespoon sweet pickle relish

1/2 teaspoon distilled white vinegar

1/2 teaspoon granulated sugar
Ingredients for In-N-Out Animal Style Burger
Nutrition Facts
| Calories | Total Fat | Saturated Fat | Cholesterol | Sodium | Total Carbohydrate | Dietary Fiber | Sugars | Protein |
| --- | --- | --- | --- | --- | --- | --- | --- | --- |
| 730 | 41g | 18g | 120mg | 1400mg | 52g | 3g | 10g | 35g |
Directions
Preparing the Animal Style Fries
1. Start by washing the russet potatoes thoroughly and cut them into thin fries.
2. Heat up the canola oil in a deep fryer or large pot to 365 degrees F (185 degrees C).
3. Fry the potatoes until golden brown, around 5 to 7 minutes, being careful not to overcrowd the pot. Do this in batches if necessary.
4. Remove the fries with a slotted spoon and drain on paper towels. Add salt to taste.
5. Meanwhile, in a small pan, sauté the finely chopped onions in a tablespoon of oil on medium heat until they turn caramelized and brown. This should take around 15 minutes.
6. Arrange the fried potatoes on a baking tray, sprinkle the shredded cheddar cheese and caramelized onions on top and broil in the oven until the cheese melts, about 2 minutes at 400 degrees F (200 degrees C).
Preparing the In-N-Out Secret Spread
1. Combine the mayonnaise, ketchup, sweet pickle relish, distilled white vinegar, and granulated sugar in a mixing bowl.
2. Stir until all the ingredients are thoroughly blended.
Preparing the Animal Style Burger
1. Preheat your grill or stovetop griddle on medium-high heat.
2. Cook the fresh burger patties for about 3 minutes on each side for medium or adjust the time to your preferred level of doneness.
3. Just before the patties are done, place a slice of American cheese on each and allow it to melt slightly.
4. Toast the hamburger buns on the grill or griddle.
5. Spread a generous amount of the secret sauce on the inside of the bun. Then layer with pickle slices, lettuce, and sliced tomatoes.
6. Place the cooked patties on the buns. Add more spread on top along with caramelized onions and serve with your fresh Animal Style Fries.
There you have it, a delicious homemade In-N-Out Animal Style Burger and Fries!
Diving into the Nutrition Facts of our In-N-Out Animal Style Burger and Fries, we've compiled a comprehensive breakdown of what you can expect for every delicious serving.
Calories: A single serving of this mouth-watering delight packs 730 calories. Although on the higher side, it sure does provide a robust energy punch to keep you going! The perfect indulgence for those cheat meal days.
Total Fat: The dish incorporates 41 grams of total fat, predominantly from the cheese and secret spread. This amount plays an essential role in energy production and helps absorb vitamins.
Saturated Fat: 18g of this bulk is saturated fat that adds to the rich, creamy texture of the spread. Always remember to balance your intake with unsaturated fats for a healthy diet.
Cholesterol: Each serving of our recipe contains 120mg of cholesterol. While necessary for producing hormones and vitamin D in the body, it's best consumed in moderation.
Sodium: A serving contains 1400mg of Sodium, essential for nerve transmission and fluid balance. However, too much can raise your blood pressure, so be careful not to go overboard.
Total Carbohydrate: The dish clocks in at 52 grams of total carbs, primarily from the potatoes and burger buns. These carbs act as fuel for your body, powering your physical activities and maintaining proper brain function.
Dietary Fiber: With 3g dietary fiber, mainly from the potatoes, it aids in digestion and helps maintain satisfying fullness.
Sugars: 10g sugars sneak into the recipe, adding a hint of sweetness and providing instant energy.
Last but not least...
Protein: And here's the powerhouse! Our recipe packs in a whopping 35g of protein, contributed by the juicy burger patties and cheese. It's more than enough for sustaining muscle growth and repair.
Remember, while our In-N-Out Animal Style Burger and Fries are all about enjoying the mouth-watering tastes, staying aware of the nutritional contents helps maintain a balanced and healthy lifestyle. Here's to thoughtful indulgence!
Frequently Asked Questions
1. What exactly is "Animal Style" in In-N-Out's menu?
- Animal Style is essentially a method of preparing burgers and fries, where they are cooked and served with a particular (and rather delicious!) set of ingredients: mustard, lettuce, tomato, pickle, extra spread, and grilled onions.
2. Is the In-N-Out's special spread similar to Thousand Island dressing?
- While they share some similarities, the In-N-Out's special spread has a unique blend of ingredients which gives it its distinctive flavor.
3. If I'm allergic to gluten, can I still enjoy this dish?
- Yes, you can make a couple of tweaks to the recipe. You can use gluten-free burger buns for the Animal Style Burger, and ensure that the condiments used are gluten-free.
4. Is this recipe suitable for a vegetarian diet?
- The Animal Style Burger features a beef patty, which isn't suitable for a vegetarian diet. However, you could substitute the beef patty with a veggie patty or portobello mushroom. The Animal Style Fries, minus any meat additions, would be suitable for vegetarians.
5. Can I store the leftovers of this dish?
- While this dish is best enjoyed fresh, leftovers can be kept in the refrigerator for up to two days.
6. Can I prepare the secret spread in advance?
- Absolutely. The spread can be prepared ahead of time and stored in a sealed container in the refrigerator. It should stay good for up to a week.